SocioEconomic Developments
Socioeconomic Development incorporates public concerns in developing social policy and economic initiatives. The ultimate objective of social development is to bring about sustained improvement in the well-being of the individual, groups, family, community, and society at large.
The vision of the FHC is to incorporate hemp into the environmental and economic fabric of the State of Florida. Hemp will become a critical resource for the state to regenerate and preserve Florida's environmental, and a vital commodity for generating jobs and revenue.  
Municipal transportation and construction
The fiber from hemp is effectively used for producing construction materials that are environmentally favorable and fully renewable, including biocrete/hempcrete, plywood, fiberboard that is stronger and lighter than that made from wood. Municipal construction projects can utilize hemp materials to improve the environmental impact (Green Score) and reduce costs, as well as keeping the economic life cycle totally within the State.
Hemp oils can be effectively used for commercial biofuel for cars, trucks, and buses, thus greatly reducing greenhouse emissions from fossil fuels, reducing costs, and substantially improving the municipal and State environmental responsibility actions.
Commercially viable foods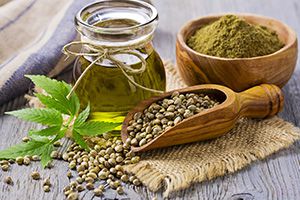 Hemp offers an alternative to crops produced in excess (such as cereals), and offers cultivation with limited environmental impact while fitting into sustainable farming systems.
Hemp seeds contain the perfect balance of essential amino acids for sustaining good health. In addition, hemp seed oil contains necessary fatty acids, also known as good fats. Not only can hemp seeds provide valuable nutritional benefits to people, they taste very good and can also be used in pet foods.
Due to its high content of beneficial oils and natural emollient properties, hemp is becoming a common ingredient in lotions and many other skin, hair, and cosmetic products. It is a good alternative to the often toxic synthetics present in many petroleum based lotions and cosmetics.
CBD hemp oil is extracted from the stalks and seeds of industrial hemp plants. The plants can be specially bred to contain high concentrations of naturally occurring cannabidiol (CBD). This is a key focus in the US hemp industry, with massive economic growth predicted.
The 2018 Farm Bill was passed by the Senate on Tuesday by a vote of 87-13. The next move is that the legislation heads to the House for a vote — and then if it passes there, it goes to President Trump to be signed into law. It is expected to face no significant challenges.

The impact of this legislation on the cannabis industry is enormous. Last year, hemp sales in the U.S. reached $820 million, according to the Hemp Business Journal. That's without hemp being completely legal. These sales have been projected to reach $2.1 billion by 2020 — and that's not taking into account the passage of the Farm Bill.

The Hemp Farming Act includes language that will amend the federal list of controlled substances with regards to hemp. It also removes any federal regulations that keep farmers from growing and selling hemp and allows the farmers to collect crop insurance.

The first group to benefit from this is, of course, the farmers and the states where hemp is identified as a crop with a lot of potential. Next are the companies that stand to benefit from focusing their product lines on hemp-derived CBD. 

https://realmoney.thestreet.com/investing/stocks/farm-bill-passes-hemp-companies-will-be-big-winners-14808547
The myriad commercial products derived from hemp present the opportunity for thousands of jobs, export economy for the State, regeneration and preservation of the environment, improvement of existing large commercial agricultural industries, among other benefits.
High tech industry development 
Advanced uses for hemp fibers represents a significant opportunity to expand the State's higher technology industry. In particular was the recent discovery that hemp fibers were superior for producing supercapacitors ( ultra high captivity energy storage systems) which have been made of very expensive carbon graphene until this new discovery.
The waste fibres from hemp crops can be transformed into high-performance energy storage devices, scientists say.
They "cooked" cannabis bark into carbon nanosheets and built supercapacitors "on a par with or better than graphene" – the industry gold standard.
Electric cars and power tools could harness this hemp technology, the US researchers say.
They presented their work at the American Chemical Society meeting in San Francisco.
"People ask me: why hemp? I say, why not?" said Dr David Mitlin of Clarkson University, New York, who describes his device in the journal ACS Nano.
"We're making graphene-like materials for a thousandth of the price – and we're doing it with waste.
"The hemp we use is perfectly legal to grow. It has no THC in it at all – so there's no overlap with any recreational activities."
Read this article here. Also see:  Hemp Carbon Makes Supercapacitors Superfast
Florida Medicaid
Medicaid and the Children's Health Insurance Program (CHIP) provide health and long-term care coverage to nearly 4.4 million low-income children, pregnant women, adults, seniors, and people with disabilities in Florida. FHC would produce and supply nutritionally beneficial hemp extracts (seeds, protein, oils)  to the Florida Agency for Healthcare Administration/Medicaid at very low costs to improve Medicaid members health and potentially reduce medical costs. Hemp milk is completely safe to consume from the age of about 7 months and it actually contains many nutritious ingredients, essential amino acids and digestible protein that are not found in formula/cow's milk. Supplemental support for lower income infants and children could greatly improve their health and future potential. Hemp seed protein is more nutritious and less expensive than that from soybeans.
"Make the most of the hemp seed, sow it everywhere."
– George Washington, first president of the U.S. and hemp advocate.